Suzuki by CFAO wins 3 top awards from Suzuki Motor Corporation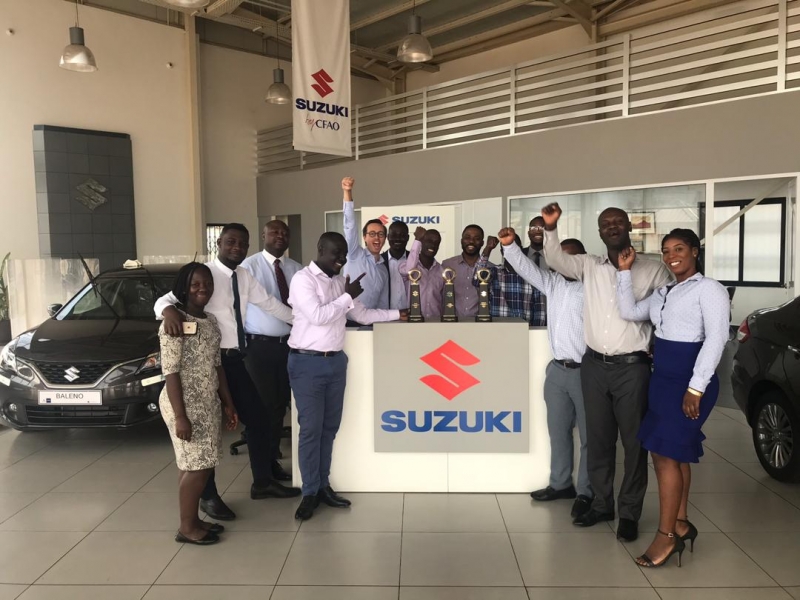 2018, October 09
CFAO Ghana Ltd, the official distributor of Suzuki vehicles in Ghana, received the coveted award for "Highest Sales Growth in 2017" amongst two other awards from Suzuki Motor Corporation for its outstanding performance in 2017.
CFAO beats all other distributors from Africa to win three prestigious awards at the annual Suzuki Automobile Dealers Conference held in India last week. The annual conference is to celebrate the performance of Suzuki distributors in Africa, Middle-East and South-East Asia with respect to sales, aftersales and the building of the brand image of Suzuki.
Mr. Kenichi Ayukawa, Executive Vice-president Suzuki Motor Corporation, expressed his admiration to CFAO Ghana team for the performance and the three distinct awards; "Highest Sales Growth in 2017", "Highest Market Share in 2017" and "Most Consistent Marketing Activities for Brand Promotion Sales in 2017" in Africa. Mr. Ayukawa also expressed his gratitude for the impressive work done by the team.
Suzuki by CFAO continues to lift high the flag of Ghana with these awards, having won the award for "Outstanding Performance in First Year of Operations in Africa" in 2016.
Mr. Augustin d'Yvoire, General Manager for CFAO Ghana Ltd, who received the awards on behalf of the company, attributed CFAO's exceptional performance in 2017 to its dedication to overall customer satisfaction in line with the company's goal of becoming the "No. 1 Customer Service Friendly company in Ghana". He also praised Suzuki Motor Corporation for offering a large range of affordable yet robust vehicles into the Ghanaian market.
Starting at only 7,500 USD, the range of new Suzuki vehicles offered by CFAO Ghana comprises of several passenger cars, SUVs and a small pick-up truck with a payload of up to 750kg.
Contact and information:
Suzuki by CFAO
0302 742 090
Airport bypass road.
Back to the list