MOOVE PARTNERS WITH CFAO TO PROVIDE SUZUKI VEHICLES TO UBER DRIVERS IN GHANA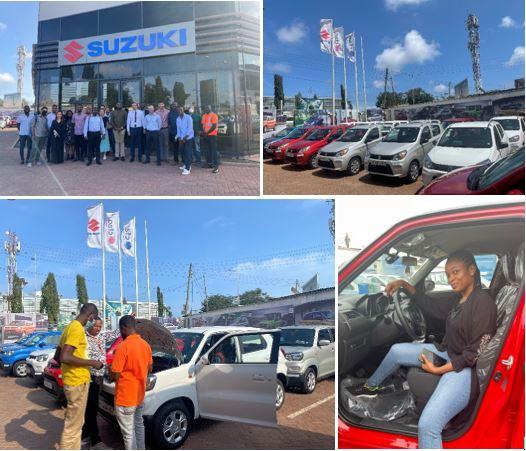 2021, September 30
Moove, an African mobility fintech and Uber's exclusive vehicle supply and vehicle supply partner in sub-Saharan Africa, has chosen CFAO Ghana as its trusted partner in the supply of fuel-efficient Suzuki vehicles, largely for its geographical presence across the country, excellent customer support, availability of spare parts and its solid technical backbone.
Moove's purchase of Suzuki vehicles from CFAO Ghana enables mobility entrepreneurs on Uber's platform to gain access to brand-new vehicles from a range of Suzuki cars including the Alto, Swift, Celerio and Spresso. Prospective drivers will have access to the vehicles via Moove's two product options: Flexirental, which enables drivers to pay a weekly rental fee or Drive to Own, which enables drivers to work towards ownership of their vehicles in 30, 36 or 48 months.
Speaking on the choice of Suzuki by Moove, the General Manager (Sales and Marketing) for CFAO Ghana, Mr. Sebastien Duchateau mentioned that "Our Suzuki vehicles continue to be the desired choice for most drivers in Ghana due to their proven durability, fuel efficiency and comfort. Coupled with our excellent after sales service and packages, we're confident the drivers will reap full value on their investment as the vehicles will never have to be parked for long periods of time due to maintenance issues or lack of parts".
As gender equality remains one of the key pillars for both CFAO Ghana and Moove, this partnership aims to empower more women to access financing and become mobility entrepreneurs, using Moove's alternative credit-scoring technology and revenue-based financing model.
"The partnership with CFAO Ghana presents a huge opportunity to alleviate the increasingly important issue of financial inclusion across the continent". said Jephthah Datsomor, Ghana Country Manager for Moove. "As a company, we are focused on inclusivity, where vehicles should be affordable and accessible by everyone, especially women, so they can become mobility entrepreneurs. This deal is an alignment for greater reach and impact".
This purchase from Moove underscores a beneficial partnership that seeks to make a positive impact in our communities and change lives in markets we are present in.
Back to the list