SUZUKI MARINE BY CFAO GHANA CLEANS NUNGUA BEACH IN ACCRA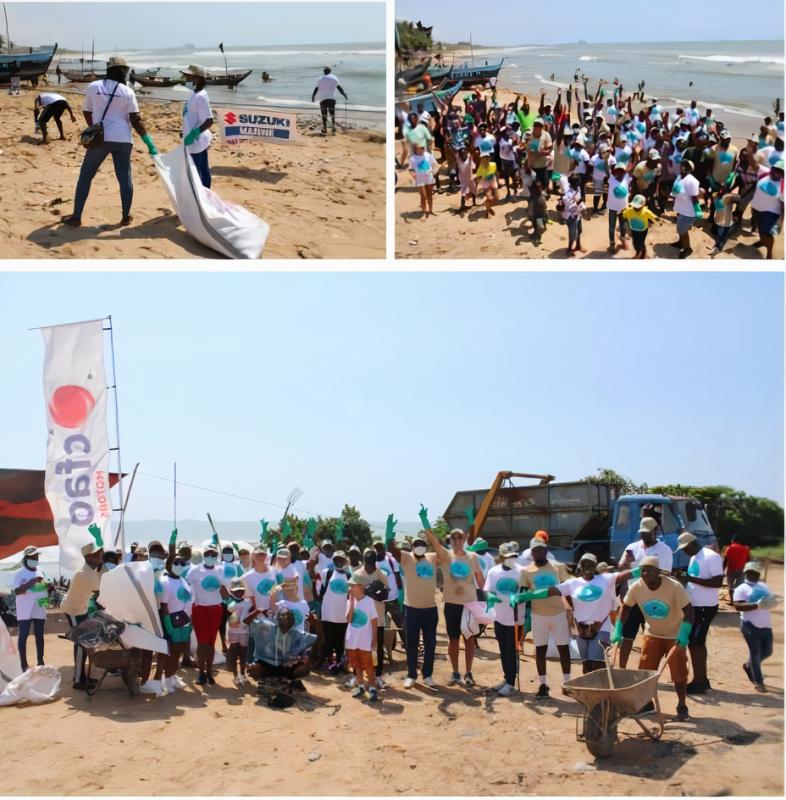 2021, October 19
Over 350 million metric tons of plastic is produced annually across the world and only 14-18% of that is actually recycled. Ghana is not excluded from this global threat which is taking over marine life and our beaches. Most beaches in Accra also face the threat of suffocation from the growing menace of plastic waste. Against this background, Suzuki Marine as part of its social responsibility, embarked on the "Clean-Up the World Campaign" globally to contribute to a better marine environment.
Suzuki has three key commitments in this regard to reduce the effects of plastic waste in the world. They are as follows:
1. Clean up the world – a drive to physically collect plastic waste on beaches.
2. Reduce plastic packaging – Suzuki continues to reduce plastic packaging of its products and adopting more sustainable packaging
3. Collecting marine micro plastic waste – Micro plastics have been discovered to be a major disruptor of the delicate balance in the aqua eco-system and has a chain effect on marine life. Suzuki is developing outboard engines that are able to collect and filter micro plastic particles in the sea without affecting the outboard motors.
CFAO Ghana, distributors of Suzuki vehicles and Marine outboard motors, joined this drive on Saturday 16th October 2021, to clean the Nungua beach in Accra. This beach was identified by the "Clean up the World" volunteers in CFAO as one of the beaches hardest hit by the menace of plastic waste. Zoomlion, a Ghanaian waste collection company, provided a garbage container to assist the pick up all the plastic waste collected, which were sent to a recycling plant in Accra.
Speaking at the event the Mr. Paulo Fernandes, Managing Director of CFAO, underscored the company's commitment to contributing to the global sustainability goals by ensuring our water bodies and beaches are clean. Also speaking at the cleanup campaign was Mr. Joseph Abugri Asitanga, Environmental Analyst, Accra Metropolitan Assembly and he mentioned the importance of keeping our beaches and environment clean. Present were the Elders and members of the fishing community who also helped in cleaning the beach. The community was encouraged to keep their beaches free from plastic waste. CFAO remains committed to pushing the clean beach agenda to ensure a sustainable life for all.
Back to the list