Suzuki Swift: Locally Assembled In Ghana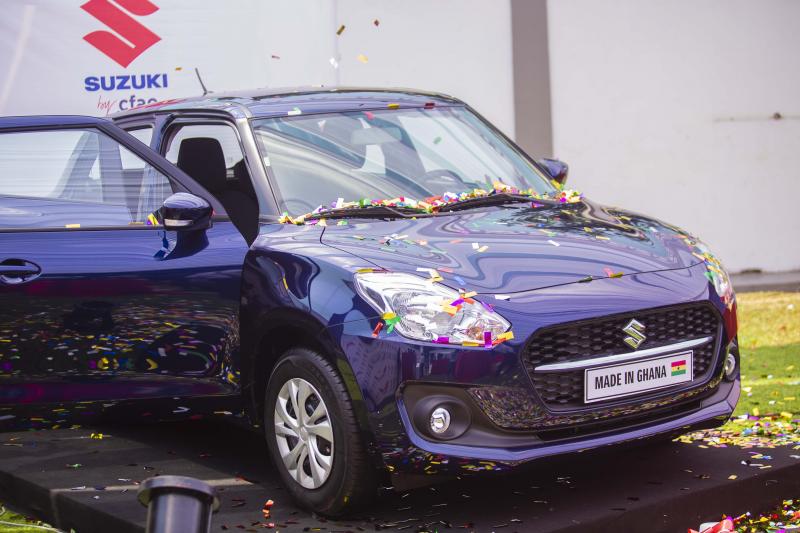 2023, January 31
On January 30th, 2023, the first locally assembled Suzuki Swift vehicle in Ghana was commissioned in
a grand ceremony at The Fitzgerald, Cantonments. The Suzuki Swift is a locally assembled vehicle by Toyota Tsusho Manufacturing Ghana Company Ltd (TTMG), based in Kpone, Tema. Vehicle assembly
in Ghana rides on the back of a Memorandum of Understanding on Cooperation in developing Ghana's automotive industry, signed between Toyota Tsusho Corporation (TTC) and the Government of Ghana.
With the introduction of the Ghana Automotive Development Policy, the Government of Ghana aims to expand the automotive industry and create new opportunities for skilled Ghanaians. The policy provides the necessary framework to establish assembly and manufacturing capacity in Ghana and to create a fully integrated and competitive industrial hub for automotive manufacturing in collaboration with the private sector – global, regional and domestic.
The Suzuki Swift is a subcompact car known for its fuel efficiency, affordable price, and fun-to-drive nature. In addition, the Swift is perfect for city driving as it has a tight turning circle, excellent visibility, and light controls. As a result, the Suzuki range in Ghana has demonstrated impressive growth in market share across various vehicle segments, with CFAO Ghana PLC recording a sale of 2900 units since its introduction in 2015.
During his welcome address, Mr Akira Yamada, Managing Director of TTMG, shared his appreciation to the Suzuki Motor Corporation (SMC), Toyota Tsusho Corporation (TTC), CFAO Ghana PLC and the Ministry of Trade & Industry for making possible this laudable feat for TTMG, and Ghana's automotive industry.
In his address, the Managing Officer for the Middle East and Africa Division of SMC, Mr Koichi Suzuki, stated, 'This assembly project marks an important milestone for both parties since it is the first Suzuki assembly effort with TTC.' He added, 'In 2022, Suzuki sales in Africa increased by 60% to 116 thousand units and in Ghana increased by 63% to over 1 thousand units. Therefore, we have positioned this alliance as essential to our company's strategy in the African market. We will continue strengthening it to enhance Suzuki's presence in Africa, especially in Ghana.'
Mr Shinichiro Otsuka, Chief Operating Officer for TTC, Africa Division, expressed his gratitude to the government of Ghana for issuing the necessary certification to TTMG as a vehicle assembly facility, which was in line with the Ghana Automotive Development Policy. He added, 'We are committed to contributing to the economy, industry and society of the republic of Ghana through automobile production together with Suzuki Motor Corporation.'
At the commissioning event, Mr Adedamola Adelabu, Managing Director & Country Delegate of CFAO Ghana PLC, gave an overview of Suzuki's performance in Ghana's automotive market. He shared that 'By 2022, Suzuki attained a market share of 5%, and currently holds a market share of 17%, reflecting a growth of 293%. The Swift model alone accounts for 30% of total sales volume.'
In his speech, the Honourable Samuel Abu Jinapor, Minister for Trade & Industry, stated, ' The government of Ghana is fully committed to working with all stakeholders to promote industrialization and make Ghana the industrial hub for the automotive industry in Africa.'
After a special tape-cutting ceremony, the Suzuki Swift vehicle was unveiled amidst fanfare and audience applause. The commissioning ceremony is another commendable milestone for TTMG, SMC, TTC and CFAO Ghana PLC; a union of sound investment and technology transfer aimed at making Ghana a competitive automotive hub in Africa.
Back to the list